Whether you own a party planning business or you're just throwing an event for family and friends, this party planning checklist will help you get organized before the big day!
In this post:

Items Needed for a Birthday Party
Party Planning Tips: 2-3 Months Before
Party Planning Tips: 1 Month Before
Party Planning Tips: 1 Week Before
Party Planning Tips: 1 Day Before
Party Planning Tips: Day of Party
Party Planning Tips for Working with Venues
What does a successful party look like?

Using a party planning checklist and creating an event timeline are just some of the many things you can do to make sure everything goes smoothly. Even if you don't have any experience with party planning, you can still throw a memorable get together.
At the end of the day, parties are all about bringing people together and having fun. Keeping this in mind throughout the process and using it as a compass as you make your major party planning decisions is a foolproof way to throw one of the best parties of all time.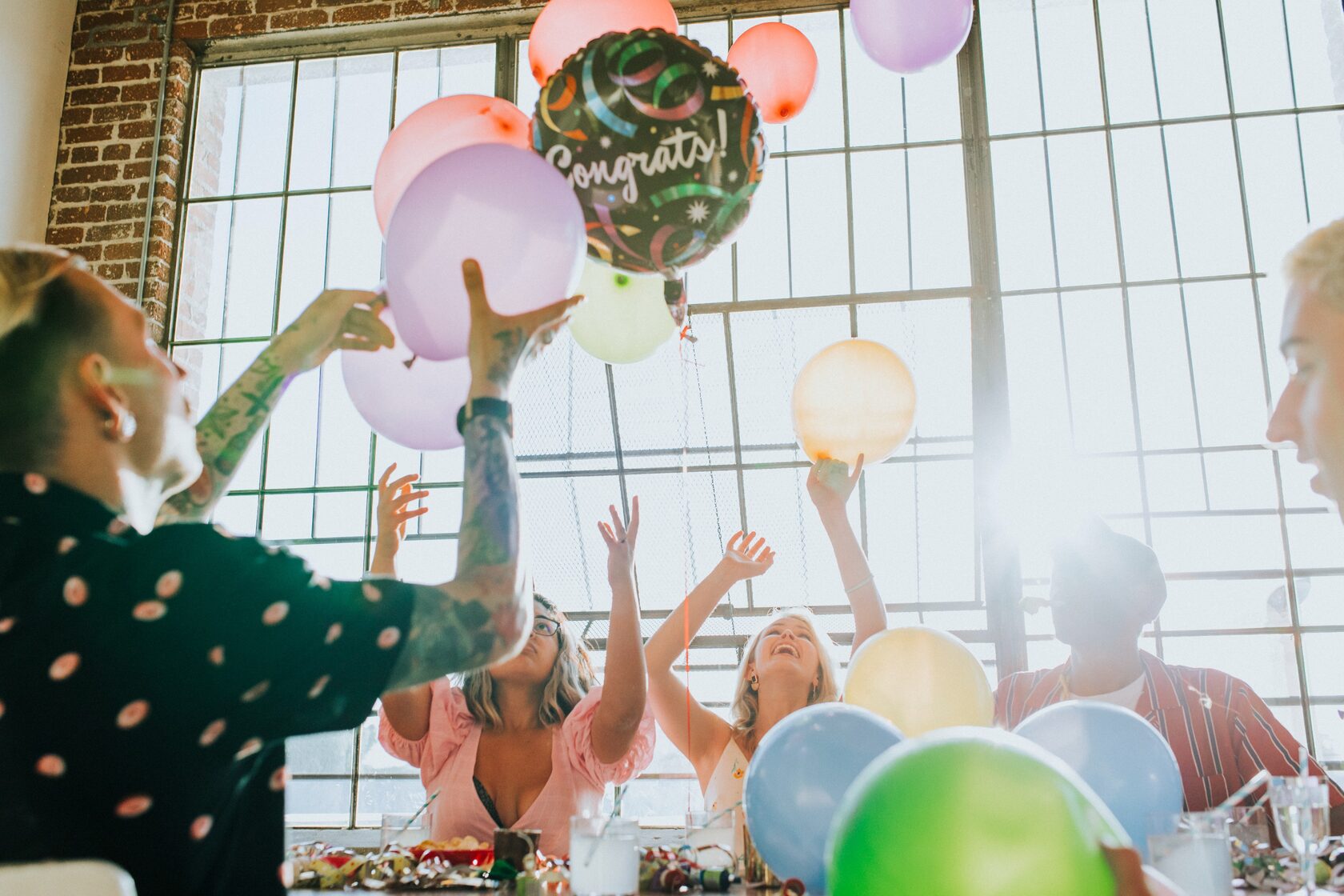 Your party planning checklist
Whether it's for a graduation or sales goal celebration, parties require the same event planning skills required to host any other type of group gathering. Depending on the size or complexity of your party, you may want to brush up on best practices or party planning articles to prepare yourself.
Next, you'll want to draft your plan of attack. Luckily for you, we've already done most of the heavy lifting! Following a party planning list like the one below, you'll be able to plan a party step by step without missing a single item, activity, or deadline.
And since birthday parties are in such high demand for the DIY party planning crowd, we thought it'd be worth mentioning how to shop for them.


What items are needed for a birthday party?
Take this list with you to any local party supply shop near you and you'll pretty much have everything you need to host and decorate your celebration.

A birthday cake. Whether you buy it or make one yourself, make sure you have candles and a lighter handy as well.
Entertainment rentals. Magicians, bouncy castles, and karaoke machines are popular.
Party favors. We recommend that you choose affordable favors like candy bars or bubbles.
Food and beverage party supplies. Everything from serving platters to cups.
Invitations. Feel free to make your guest list long. On average, only 60% of attendees will respond "Yes" to cocktail party invitations.
Signage. Direct guests towards your private venue and clearly mark parking areas.
Balloons. A classic birthday party decor item, just make sure you dispose of them properly – lawmakers in several states are currently trying to make balloon releases illegal.
Tables and chairs. Use furniture you already own or rent some. If you're renting furniture for an outdoor party that takes place in the evening, consider adding heaters to your order.
Tablecloths, centerpieces, streamers, etc. Etsy has over 67,000 birthday centerpiece options to choose from if you want the handmade look or customization of DIY without the actual doing it yourself part.
Whether you're making an 80th birthday party planning checklist or a casual office get together, keep the following template handy as you begin the process of creating a fun-filled event for your loved ones or colleagues.


The ultimate party planning checklist template
No matter what kind of party you're planning, remember to complete all of these checklist items:


Party planning tips 2-3 months before:
Depending on your party planning experience, what time of year it is, and how large or complex you think the party will be, you'll want to begin preparation as soon as possible!

Choose a theme. Check out previous party ideas to help inspire your party theme decision.
Determine your budget. A party actually costs around $30-$60 per person.
Choose a few date and time options for the event. Ever wondered how common your birthday is? September 9th is the most popular birth date according to recent data reports.
Book an event venue. 69% of event planners select venues based on word of mouth recommendations. 58% will use search engines and 34% use online listings and marketplaces.
Arrange entertainment. Great party ideas for adults include DIY personal pizza stations, DJs, and themed photo booths.
Make a guest list. Guest list etiquette states that party planners should give hosts or key stakeholders a strict number of people they can invite.
Order supplies if you're making your own decor. And take a peek at these simple and creative DIY party decorating ideas while you're at it.
Party checklist 1 month before:
With all the major decisions out of the way, now all you need to do is sort out details!

Send invitations. It's 2021 most of us are going green and not sending out paper invitations. Use the Plannly app to create your party invite and send it to all your friends and family.
Order food & beverages. If you're not working with a chef, you'll want to put in orders for alcohol and non-perishables now.
Purchase or make your decor. You can also always borrow decor from other people's parties and style it in a way that puts your own personal touch on their products. Or get your inspiration from pinterest.
Plan activities. You can choose anything from dancing to board games to trivia competitions. And (surprise, surprise) Pinterest has a lot of interesting party activity ideas to inspire you.
Enlist party helpers or hire event staff. Whether you'll have family in town or need help serving food to hundreds of corporate guests, make sure you have people ready to lend a hand before, during, and after the celebration.
Party planning tips 1 week before:
A little running around now will save you unnecessary headaches the day before or of!

Order baked goods. Cakes, cupcakes, or pies should be ordered now. Some bakeries will require more or less notice depending on your preferences and their schedule so be sure to triple check their ordering instructions ahead of time.
Follow up on RSVPs. No need to do this with Plannly. Plannly takes care of reminding your guest that they have an event coming up until the day of the party!
Create and begin sharing your party hashtag. Are you an event planner or just want to see other photos of your party in one place? Come up with a hashtag and plan to post in different places at your party. Once the day is done you'll be able to see everyone enjoying the party and themselves.
Party planning checklist 1 day before:
It's almost time, keep going!

Go grocery shopping. Or hire a TaskRabbit or grocery delivery service to do it for you.
Pick up your bakery order. You'll probably be in a hurry when you do but try to remember to take a peek inside the boxes before you drive away to make sure everything is there and looks how you pictured it would.
Prepare tip envelopes for party entertainers and staff. To give you an idea of how much is appropriate, children's party entertainers usually expect $15-$20 in tips each while wedding vendors like chefs often see anywhere from $50 to $100 an event, on average.
Place catering orders (if you're not working with a chef). The same applies to your fast food options like sandwiches or pizza. Again, double check the companies ordering rules beforehand.
Prep your event space. If it's at your home or a private residence, hire a maid or clean the party areas and restrooms yourself. If you're renting a space, double check your contract to see if you'll be responsible for cleanliness at any point.
Prep non-perishable food items.
Day-of party planning:
You made it – finish these last few tasks then go enjoy yourself!

Buy ice. Don't be afraid to delegate this task to someone else. Just make sure they bring a cooler to store it in.
Set up your event decor and centerpieces. Have someone help you with this step so you can tackle more ground if it's a big party.
For outdoor events, prepare according to the weather forecast. Citronella candles, umbrellas, string lights, blankets, and umbrella caddies add a nice touch.

Clean up after it's all over. Or hire take down staff to help you disassemble your rentals and decor.